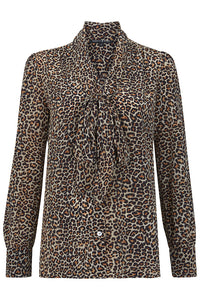 We have taken our best selling pussybow and made it a v neck, and if it is possible we love it just as much! Leopard print will forever be in our hearts, and this top is perfection teamed with denim, or make it an all in one and wear it with our matching trousers. 100% silk. Made in the UK.

Price 295
Dry clean only
size s (size 8 uk) size med (size 10-12 uk) size large (size 14 UK)

AVAILABLE TO PRE-ORDER. PLEASE ALLOW 21 DAYS FOR DELIVERY.