Leopard Print: Love It Or Loathe It?
British designer Tabitha, is head over heels for leopard print and its ability to elevate any outfit.
Top to toe and clashing prints? Why ever not?
In 1962 Jackie Kennedy stepped out in her Oleg Cassini-designed coat and leopard print was born.
It's edgy, defies trends and turns any outfit from average to sublime – nature created it and I love it.
I adore all the wild-cat prints out there – leopard, cheetah, jaguar - take your pick. If you are feeling particularly brave, clashing snake and leopard print is a brilliant way to go.
Oof, definitely be aware of the Bet Lynch connotations (sorry American and International visitors - this is a uniquely British thing being "Coronation Street"), and I am not about to suggest heading out in leopard-print jeggings accessorised with gold hoop earrings (unless you are Sienna Miller).
As with everything, there is a fine line. I very rarely leave the house without something leopard on my feet. But why stop there? We only have to look at Kate Moss and Alexa Chung – the living embodiment of all things leopard – to know how easily it takes you from fashion observer to rock'n'roll player and I know which I would rather be.
This season Givenchy and Bottega Veneta sent animal print down the runway in all its glory.
There is feline fever everywhere and one glance at Equipment's collaboration with Kate Moss confirms that it's not going anywhere soon.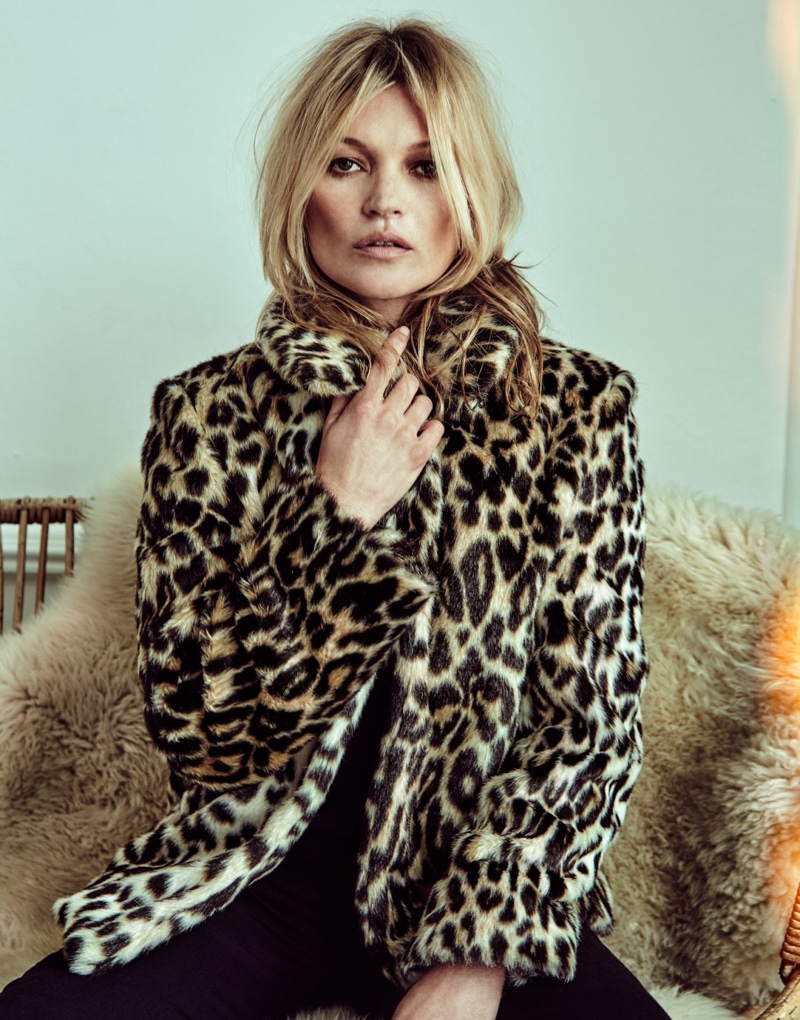 High street stores have been quick adopters of the trend, with Topshop offering an awesome leopard-print maxi dress.
Mango has an animal-print blouse that will allow me the opportunity for double leopard on days when double denim seems too dull.
But which coat to buy?
The showstopper is Alice + Olivia's faux-fur Montana peacoat; Wear with skinny leather trousers and Sam Edelman leopard pumps for a seriously good outfit.
Tabitha's leopard lust-have:
Kate Moss for Equipment Lake leopard-print pajama shirt, £335, and Avery pajama pants, £360, both from net-a-porter.com. "For wearing curled up in front of the fire, or even to a drinks party if you are feeling particularly brazen"
Tabitha's Instagram of the week: "I'm plugged into the Miha Bodytec system. Apparently it gets you fit without breaking a sweat!"
EMILY JOHNSTON: US-born, London-based Emily of the hugely popular blog Fashion Foie Gras loves leopard but only in small doses.
"Less is more", she urges us.
Keep it tasteful with accessories and accents!
If there is one thing I know absolutely for sure, it is this – leopard will always have a place in fashion, always. This trend has played a huge role in every collection since the dawn of animal print… yet I will never forget the mistakes made by many in wearing leopard print from head to toe.
The last thing you want to look like is safari fashion roadkill.
My advice with leopard is to use it as a fashion accent.
Keep it simple, low key and classy. I do not recommend going for leopard print in epic fashion form. I could never imagine leopard trousers or a full-on overcoat – it brings back memories of Naomi Campbell in Italian Vogue from 1991… the only thing you saw was leopard.
Instead, follow in the footsteps of current fashion icons. Look at Miranda Kerr's use of leopard-print shoes to give a flash of style, or take a cue from Rosie Huntington-Whiteley, who lugs leopard in the crook of her arm with a beautiful animal-print tote.
Shopping the trend has never been easier. From high end to high street, designers are offering leopard print in every imaginable way, with every buy an investment in your fashion future. Look to Marks & Spencer for leopard-print shoes, or grab a J Crew leopard Signet bag for an easy accent… love!
For designer budgets, put your money in a Hill & Friends leopard-print tote or a Givenchy oversized cashmere scarf. A giant animal-print scarf will keep you warm and will look fabulous. Wrap up and wait for the comments on your stylish choice to roll in.
Emily's leopard lust-have:
Aspinal of London Power Clutch (charges your iPhone as well as being a chic accessory), £250; visit aspinaloflondon.com 
Tabitha's Instagram of the week: "Who says you can't wear white into winter? Breaking the rules and loving it!"